May 1, 2011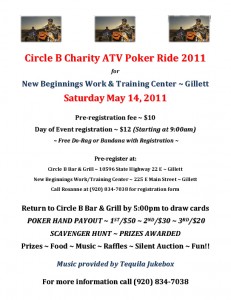 Will you please pass the following information on to the members of your ATV Club and also display the attached poster?  The Charity Poker Ride will be benefiting New Beginnings Work/Training Center in Gillett , WI .
In May 2001, New Beginnings opened its doors to provide personal growth to Oconto County residents by offering work and training skills to unemployed and under-employed citizens, as well as citizens with disabilities.  New Beginnings continues to live out its mission by providing training opportunities to teach skills that will empower program participants and employees to learn, grow and become productive members of the community.  As a vital part of the staff at New Beginnings, our clients with disabilities learn retail skills as sorters, greeters, merchandise pricing, sales, money handling and cleaning.
New Beginnings aspires to be viewed by the public as a support service for a variety of needs, such as, food pantry, learning center, clothes closet, and retail training.  Hundreds of county residents receive help every year at New Beginnings, whether it be from the food pantry, the learning lab, or receiving free merchandise in crisis situations.
New Beginnings is truly "The Little Store that does BIG Things!"
Rosanne Zoeller
New Beginnings Fund Raising Committee
Oconto County DHHS
501 Park Ave, Oconto , WI 54153
Phone:  (920)834-7038
Fax:  (920)834-6889
Circle B Charity ATV Poker Ride 2011
for
New Beginnings Work & Training Center ~ Gillett
Saturday May 14, 2011
Pre-registration fee ~ $10
Day of Event registration ~ $12 (Starting at 9:00am)
~ Free Do-Rag or Bandana with Registration ~
Pre-register at:
Circle B Bar & Grill ~ 10596 State Highway 22 E ~ Gillett
New Beginnings Work/Training Center ~ 225 E Main Street ~ Gillett
Call Rosanne at (920) 834-7038 for registration form
Return to Circle B Bar & Grill by 5:00pm to draw cards
POKER HAND PAYOUT ~ 1ST/$50 ~ 2ND/$30 ~ 3RD/$20
SCAVENGER HUNT ~ PRIZES AWARDED
Prizes ~ Food ~ Music ~ Raffles ~ Silent Auction ~ Fun!!
Music provided by Tequila Jukebox
For more information call (920) 834-7038